In further recognition of its position as a leading specialist supplier to the rail sector, Multipulse Electronics was honoured at the 2017 Railway Industry Innovation Awards event in London.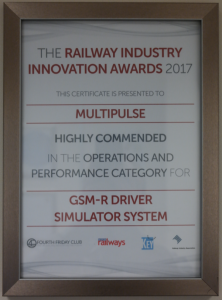 Competing in the operations and performance category, Multipulse was highly commended for its go-anywhere GSM-R driver simulator. The category was won by Tracsis, for its enterprise resource management and planning system. Incremental Solutions was also highly commended, for its live fleet management system.
Multipulse Managing Director Neil Ramsey says: "We are pleased to have been recognised for our simulator, which was developed with Network Rail to ensure that drivers in even the remotest depots are fully competent on the GSM-R cab radio system."
Capable of providing both initial instruction and ongoing competence testing, the portable simulator is based on Windows computers and is quickly set up (and packed away) in any location. It can accommodate up to six drivers at a time.
"The system was devised to meet the training and assessment needs of train operating companies that either do not have GSM-R fitted full-cab training simulators, or have drivers based at outlying depots," says Neil Ramsey.
"The portable simulators mean that these drivers can be trained and assessed to the same high standards – without the need for time-consuming travel to a central training location."
The long-established railway innovation awards, showcasing excellence in civil, mechanical and electrical engineering – and digital technology – are regarded as one of the industry's annual highlights. And innovation is key to ongoing improvement of the passenger experience, according to Network Rail CEO Mark Carne, who delivered the keynote speech at the 2017 awards presentation.